Welcome back Memory Maze friends. Toni here and I have a special treat for you today with a loved up layout featuring a stunning photo
(credit to Kristina Childs)
of a good friend Shae and her new husband Alex. They finally made it official in Bali in April in a spectacular wedding!
Journey Adore Believe Love Together
I started out with a pattern paper from Kaiser as the background. I left it as is.
Then used this fun Beehive 12x12 chipboard piece as the focal piece for the background. I painted it with a "Linen" coloured paint and randomly plot some "Cotton Candy" paint in some areas. Over the top of that paint I lightly applied some Silver Stickles Glitter glue.

The swirl chipboard pieces used as a cluster branch for the flowers has been coated with a Silver Opal embossing powder. The Words for the title have been coloured using the Adirondack Alcohol Silver ink. I really wanted a flat, clean and shiny finish to the words. So therefore using any sort of embossing powder was out of the question.

The flower clusters include plenty of Kaiser, Manor House and Prima. Of course I added the final touches of some Memory Maze bling in there too.
I submitted this into my local show a couple of weeks ago, I'm very proud to announce that I captured 1st Place with this gorgeous layout. I hope that this does some justice for the stunning photo and amazing chipboard pieces!
This awesome layout that my youngest son Hunter (just 5yrs old) did featuring Memory Maze chipboard captured - link to blog post - 1st Place for his Age Group section also! :)
Memory Maze products used;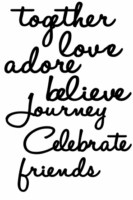 Thank you so much for joining me today
Toni Herron
2016 Memory Maze DT Member