Elisa here from the Design Team with my next creation for Memory Maze, a mixed media layout featuring some lovely Memory Maze stencils and chipboard and of course some Colour Blast.
To create the background i sprayed Colour Blast 'Love' and 'Carribean' Colour Sprays and 'Just Blue' and 'Fire Engine' Shimmer Sprays over the top of the Grunge stencil. I only sprayed across the page trying to keep to the middle as much as possible.
Once dry I used the circle stencil and using a blue Fuseball pen by Ranger i traced random circles over the sprayed background and then using a paintbrush and a blue water colour paint coloured in most of the circles carefully.
While that was drying i gave the netting chipboard and a couple of the shells a coat in gesso and spread 'Just Blue' Colour Blast Paste over them using my finger.
With the other shells i heat embossed them with Colour Blast Embossing Powder in Just Blue and then while they were drying i rubbed a small amount of watermelon Mica Powder from Colour Blast over the embossing to provide a contrasting colour.
I matted my photo in white and black, used some medical gauze in the background behind the photo and added some splashes of the colour sprays to finish off. Assemble your layout layering your elements!
Here are some close ups!!
Here are the lovely Memory Maze products that i have utilised to complete this layout. They can be found in the Memory Maze Shop here - http://www.memorymaze.com/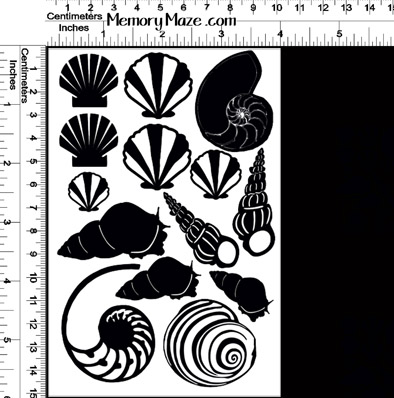 Well that's it from me today, join me in a couple of weeks for my next project on the 24th August 2016.
Thanks for stopping by the blog today, make sure you leave some love ....